Diesel Paint Schemes > Up | Tangerine & Blue | Green & Yellow
Green and Yellow - Period 2, 1950 - 1962
Applied to all road switchers and cab units during 1950 - 1962 and lasted until 1976 on some units.
Cab Units
The three types of cab units operated by the CNJ, freight: ABA sets of EMD F3s, Baldwin DR 4-4-1500 and passenger: double-ended Baldwin DRX 6-4-2000s were all repainted in the green & yellow stripe paint scheme between 1950 and 1955 - the DRX 6-4-2000 before the others. As can be seen in the pictures below - taken from the Jersey Central Lines books - the colour of the herald on the DRX 6-4-2000 units was green on yellow rather than the yellow on green found on all other CNJ units. The herald on the DR 4-4-1500 was often smaller than that on the F3 units. The locomotive number on the freight cab units appeared low down on both sides of the cab.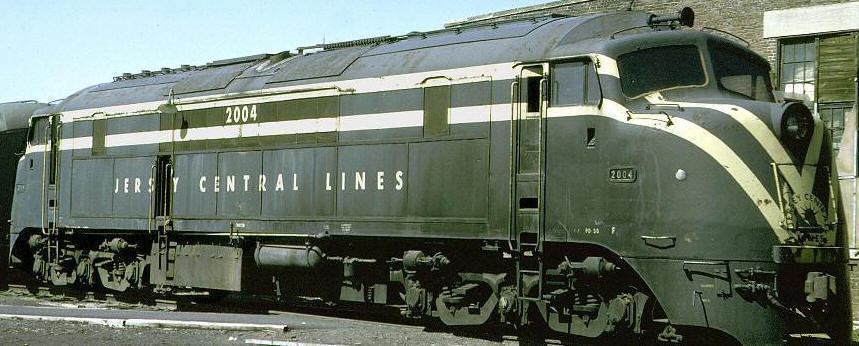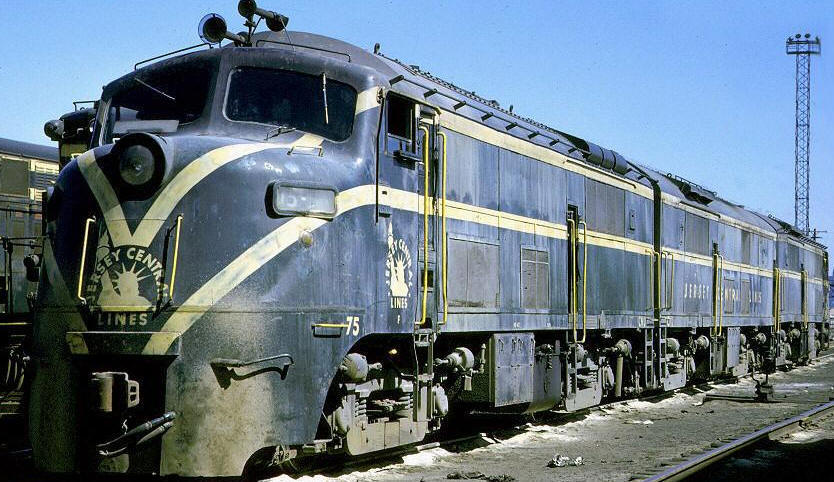 Baldwin DRX 6-4-2000, #2004 (J Testagrose) Baldwin DR 4-4-1500 ABA units, #75 (MacOwen)
Northeast Railfan Net Northeast Railfan Net
As with so many things on the CNJ, the painters didn't often follow the instructions when painting the liberty heralds - this is clearest with the cab units. These pictures show some of the variations found:
DRX 6-4-2000 F3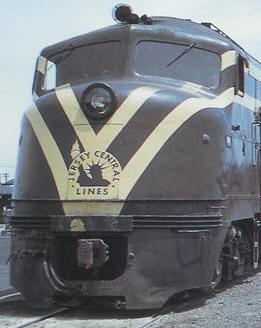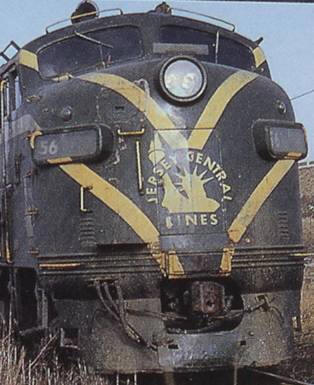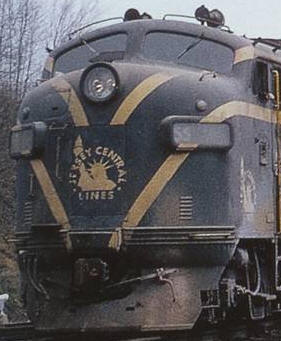 DR 4-4-1500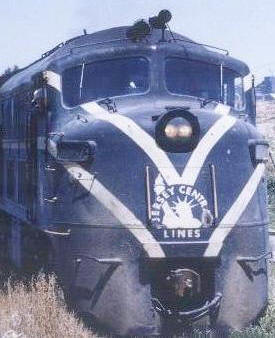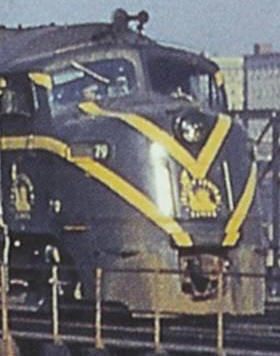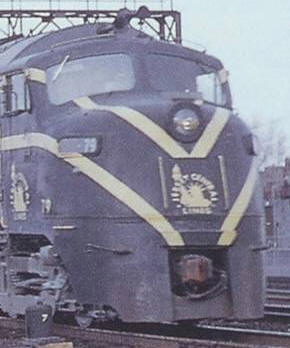 Northeast Railfan Net
Models: This paint scheme on the EMD F3A and B units is available in model form from Athearn (in their Genesis range) - check the diesel model table. Both Baldwin units are available (unpainted) in brass. The DR 4-4-1500 is also available as a body shell (A & B units) from the ARHS, and the DRX 6-4-2000 is available painted in this paint scheme from Red Ball in brass.
Photos: Photos of locomotives in this paint scheme in selected Books can be found as follows:
EMD F3
Baldwin DR 4-4-1500
Baldwin DRX 6-4-2000
#
date
reference
#
date
reference
#
date
reference
57
Aug-55
jcl2-p17
74
Sep-54
jcl3-p39
2001
Jul-52
jcl3-p32
55
Jun-56
jcl3-p40
73
1956
jcl3-p42
2005
Oct-52
jcl3-p32
56
Jun-56
jcl3-p40
79
1958
jcl3-p47
2003
Mar-54
jcl2-p28
59
May-59
jcl3-p51
72
1958
taa-p56
2003
Jul-54
jcl3-p38
50
Sep-61
jcl3-p62
79
Aug-58
jcl2-p26
2000
Jul-54
jcl3-p38
59
May-62
jcl2-p60
79
Apr-59
jcl3-p50
2003
Nov-54
jcl2-p49
51
Jul-62
jcl2-p83
71
May-59
jcl2-p57
2003
Dec-54
jcl3-p41
59
Apr-63
taa-p46
72
Apr-60
jcl2-p128
2002
Jul-55
jcl3-p40
57
Apr-63
taa-p46
79
Mar-63
jcl3-p63
2005
Aug-55
jcl2-p19
56
Mar-64
jcl2-p21
71
-
jcl2-p53
2004
1955
jcl2-p107
56
Apr-64
taa-p45
78
-
jcl2-p53
2001
Jun-56
jcl2-p18
55
Apr-64
taa-p45
79
-
jcl2-p55
2002
Jun-56
jcl2-p19
55
Nov-64

jcl2-p45

79
-
jcl3-p34
2005
Sep-57
jcl2-p113
55
Feb-65
jcl2-p81
2000
Feb-61
jcl3-p58
56
Apr-65
jcl3-p68
2003-5
-
jcl3-p33
55
Jun-65

jcl3-p69

2005
-
jcl3-p57
53
-
jcl2-p79
55
-

jcl2-p79

57
-
jcl3-p43
key: jcl2 - Jersey Central Lines in Color, vol 2
jcl3 - Jersey Central Lines in Color, vol 3
taa - Trackside around Allentown

Road Switchers
The only road switchers to be re-painted in this paint scheme were the 14 Fairbanks Morse H15-44s, repainted from a similar blue and orange paint scheme. It is often hard to see the difference between these two color schemes in photos as the film makes the greens look blue.
In each case, there is a liberty herald in yellow on the cab sides, with the locomotive number painted below it.
All other road switchers were painted directly in this paint scheme. This included:

Alco - RS-1 (6), RS-3 (24), RSD-4 (14), RSD-5 (1)
Baldwin - RS-12 (4)
Fairbanks Morse - H16-44 (4), H24-66 (13)
EMD - GP7 (13)

However, although the stripes, heralds and numbers on the sides were very similar, the positioning of the heralds on the front and rear ends differed considerably from model to model:


Northeast Railfan Net RS-12 (Jim Benny)
The locomotive number on all units also appeared low down on the left hand side on the front of the unit.
in bottom stripe: in top stripe: above top stripe: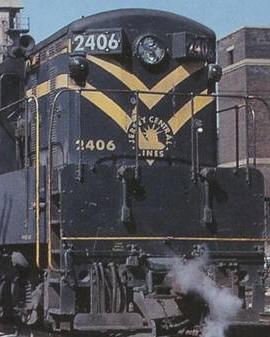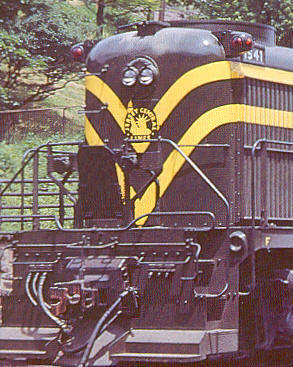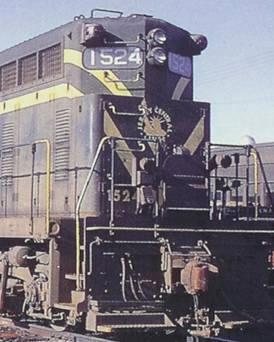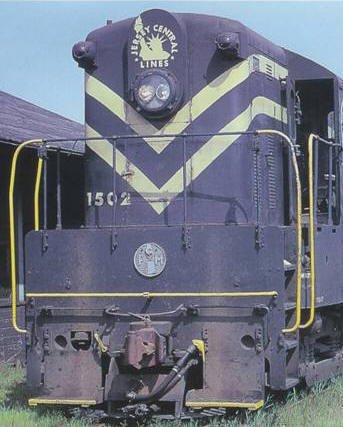 H24-66 RS-1, RS-3, RSD-4, RSD-5, GP7 H15-44, H16-44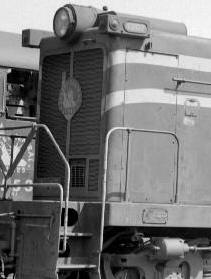 In each case, the herald position on the front and back was the same. The Baldwin RS12 had a herald painted on a metal disc placed on the radiator grill (see right - from Northeast Railfan Net, #1207 (David Nyce)), with the yellow stripes painted across the grill, but these quickly faded - see "Jersey Central Diesels" for an excellent photo. Otherwise, its paint scheme was very similar to the RS-1/GP7 group.
Models: This paint scheme is available for all these diesel types, except the GP7, in model form from Atlas, Athearn and/or Stewart - check the diesel model table. The RS3 models are hardest to find.
Photos: Photos of locomotives in this paint scheme in selected Books can be found as follows:
RS-3
RSD-4 / RSD-5
RS12
#
date
reference
#
date
reference
#
date
reference
1540
Jul-50
jcl2-p83
1614
Aug-64
jcl2-p77
1208
Apr-53
jcl3-p27
1541
Jul-50
jcl2-p83
1605
Jun-65
jcl2-p65
1208
Nov-54
jcl2-p48
1552
Apr-58
jcl2-p103
1610
1965
ata-p67
1533
Sep-68
jcl2-p33
1548
Sep-58
jcl3-p48
1605
Mar-66
jcl3-p90
1209
Apr-70
jcl2-p30
-
Sep-58
jcl3-p48
1601
Jun-70
jcl2-p33
1206
Mar-72
jcl2-p93
1709
Mar-59
jcl2-p20
170?
Mar-59
jcl3-p50
1555
Apr-62
taa-p23
1548
May-62
jcl2-p21
1553
Oct-64
jcl2-p16
1553
Jun-65
jcl2-p97
1701
Sep-65
jcl3-p89
1554
Feb-66
jcl2-p36
1550
Jul-66
jcl3-p71
1553
Jul-66
jcl3-p72
1550
Apr-67
jcl3-p77
1543
-
jcl2-p59
1545
-
jcl2-p59
H24-66
H15-44 / H16-44
GP7
#
date
reference
#
date
reference
#
date
reference
2406
Sep-55
taa-p58
1504
Jun-53
jcl2-p42
1532
Feb-55
jcl3-p40
2413
Jun-56
jcl3-p42
1500
Aug-53
jcl3-p33
1531
1956
jcl3-p42
2413
Jul-57
jcl3-p44
1515
Jul-54
jcl3-p37
1524
Apr-58
jcl2-p102
2409
Sep-57
jcl3-p46
1510
Jan-55
jcl2-p105
1526
Sep-58
taa-p23
2406
Nov-58
jcl3-p49
1506
Jan-55
jcl2-p105
1532
Feb-62
jcl3-p62
2401
Feb-59
jcl2-p57
1506
1955
jcl2-p105
1528
Apr-62
jcl3-p63
2406
Jul-60
jcl3-p57
-
Aug-57
jcl3-p45
1520
Mar-63
jcl3-p63
2407
Feb-61
jcl3-p58
1502
Oct-61
jcl3-p59
1525
Jul-64
jcl2-p58
2401
Mar-61
jcl2-p20
1504
Mar-63
jcl3-p63
1521
Jul-66
jcl3-p70
2404
Apr-62
jcl2-p56
1516
Apr-63
jcl3-p64
1521
Apr-67
jcl3-p78
2402
Apr-62
ata-p30
1512
Jul-66
jcl3-p72
1524
Jan-68
jcl2-p51
2408
Sep-62
jcl2-p52
1500
Jul-66
jcl3-p72
1524
Oct-68
jcl2-p125
2413
Apr-63
jcl3-p64
1511
Nov-66
jcl3-p76
1524
Oct-68
jcl3-p86
2408
Apr-63
jcl3-p118
1513
Feb-67
jcl2-p14
1524
-
jcl3-p47
2405
Apr-63
jcl3-p118
1511
-
jcl2-p23
2403
Apr-63
jcl3-p118
2406
Apr-63
taa-p49
2407
Aug-63
jcl2-p36
2413
Aug-63
jcl3-p64
2413
Sep-65
jcl2-p23
2406
Jul-66
jcl2-p15
2413
Jul-66
jcl2-p15
2412
Jul-66
jcl3-p70
2404
late-66
ata-p28
2412
Dec-66
jcl3-p77
2412
Apr-67
jcl2-p15
2413
Apr-67
jcl2-p27
2412
Jul-68
jcl2-p104
2402
1960s
ata-p26
key: jcl2 - Jersey Central Lines in Color, vol 2
jcl3 - Jersey Central Lines in Color, vol 3
ata - Alcos to Allentown
taa - Trackside around Allentown