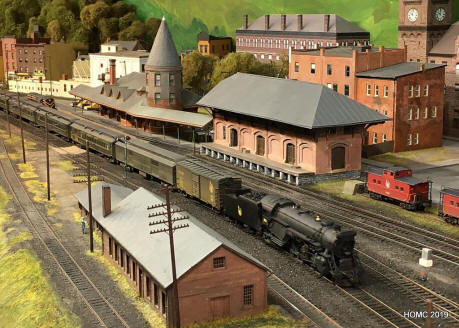 Mauch Chunk is now available for sale (to individuals) or transfer (to a club). Please contact us as in the footer.
Welcome.
This web site keeps track of the progress of our HO model of the CNJ station in old Mauch Chunk, PA in the late 1940s. Unusually, we have built this in the UK!
After a visit to Jim Thorpe in 1996, we selected it as a subject and started modelling it in 2002. We have tried to copy the prototype as far as possible using plans taken from photos. All the material we have is available on this website for you to share.
We welcome emails from CNJ fans and fellow modellers. UK modellers are also welcome to contact us with a view to operating at exhibitions.

When we exhibited the layout in the UK at Warley NEC (2019) - see the Exhibition pages - we didn't realise it would be the last time for some years. Partly as a result, Mauch Chunk is now available for sale (to individuals) or transfer (to a club). Please contact us as in the footer!
Thanks
Steve